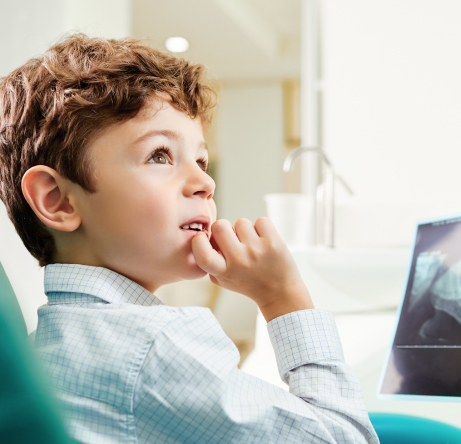 There are many different varieties of malocclusions (bad bites) that can affect not only a person's smile, but their ability to bite, chew, and function normally. Examples of bad bites include overbites, underbites, cross-bites, deep bites and open bites. In this post, we'll talk about open bites and give an example of a case that was treated in our office with 15 months of Invisalign clear aligners.
An open bite is characterized by a vertical gap between the front upper and front lower teeth when a person is completely biting down. The back teeth touch before the front teeth have a chance to come together. This type of bite can make it extremely difficult, if not impossible, to completely bite through certain foods. Imagine trying to take a bite out of a sandwich and only making it halfway through!
Open bites can be caused by abnormalities with the position of the jaws, the teeth, or a combination of the two. These can develop due to genetics, habits (such as a thumb or finger-sucking habit), severe airway issues (such as the inability to breathe through your nose for along period of time), or abnormally resting your tongue against your front teeth, causing them to flair forward.
Treatment of an open bite can come in many forms. If a thumb-sucking habit is playing a part in the bite problem, stopping the habit as soon as possible is key. Open bites can be corrected with braces or clear aligner therapy such as Invisalign. Treatment usually involves moving the front teeth down, the back teeth up, or a combination of the two. In some cases, jaw surgery can be needed to completely correct an open bite.
Making the decision on whether to correct an open bite with braces or aligners requires a consultation with a certified orthodontic specialist. An orthodontist can diagnose the cause and severity of the malocclusion and make treatment recommendations that are right for you.